After unrelenting fog, we packed our bags from Kanha and left early so that we reach Bandhavgad timely. Lunch as usual was on our minds which we decided to forego for the sake of reaching earlier. As we were traveling on the bad roads that leads out of Kanha on the right side of the road in the woods was a carcass of an Ox half eaten from behind till the ribs. The meat looked dark pink and no rotting smell was there, these were all the signs to be cautious as Kill being fresh and could still be under the eyes of the slayer predator. Being eaten from behind means a victim of Tiger attack, as tigers start to devour their hunt from the back portion unlike the leopards which start from the stomach. In case of other carnivores which hunt in groups there is no pattern at all and the carcass gets torn from all the sides.   Ox lying in the woods with no apparent drag marks on the forest floor from the road leading to the spot meant that it was the unfortunate Ox which ventured in to forest area and hence no compensation for the unfortunate owner. Rules regarding loss of livestock around tiger reserves is very simple, if tiger comes out in villages or revenue land and kills the cattle you are entitled but if the livestock forages in to forest area and gets killed, the forest department does not even say sorry.
Staying near a half-eaten tiger kill on foot can be a deadly idea as it is unlikely that the tiger would move far away after a heavy meal and usually stays around it guarding it from scavengers, considering this we left. The weather opened up as the forest land gave space to green farm fields, a black shouldered kite was sitting pretty on electric wire looking out for any skink Lizard or any other small reptile to come out in sun and get eaten. Sky was turquoise blue and green fields were complimenting the scene to the fullest to make it wonderful while driving.
The distance was 240 KMs and we were expecting it to get over by 5 hours' maximum, but not to be. As soon as we hit the national highway on which we had high expectation of road quality and speed, but not to be. The road between Chartola and Bichiya was perhaps the worst. On other roads the roads were bad but traffic was missing, here huge potholes as well as trucks operating in flight speed mode all along made it difficult for us to even clock an average speed of 20 Km/Hour. At the Bichiya Junction we decided to explore some other route and after taking cognizance of GPS and suggestions from local drivers took rights turn to Niwsa and Ghugri route, which was shorter as well as had good road. The decision paid rich dividends and speed was increased. Being mid of January it was still chilling at around 4 PM in the noon, and I was expecting snakes along the sides of the road taking the last bit of warmth available from Sun so as to sustain the cold night. I was right in my anticipation and as soon as we crossed Ghugri village I saw a very sleek snake possibly a banded racer coming on to road and as soon as we stopped the snake, it retrieved in to side trenches along the road, and as my experiences with the snakes, once they decide to retrieve and hide it becomes very difficult to find out.  We left the snake in its world and proceeded ahead. Post reaching Chabi the hunger was getting better of us and around 5P.M. a well-stocked food stall with aroma of fresh Samosa's and Kachori's near Chabi bus stand made us to believe that this was the heavenly abode that our hungry stomachs were looking for. We went in to the lap of the god. The Fresh Samose served with butter milk with a dash of fried curry leaves and a Mustard seed was delectable and Kala Jam in the Kadhai was inviting us. We took a dig in to almost every food item available at that stall and post satiating our bellies proceeded ahead. The road side weekly market was a delight and from there we bought some Jaggery laced Namkeen (Gud ke Sev) and Singhade.
After Shahpura small ponds formed by backwaters of check dams on Narmada started appearing and it was the time for the sun to melt down in to those water, the view was amazing and deserved to be captured permanently.
All the roads had very less traffic and spots of flattened and dry cow dung telling us that cattle are the more predominant consumers of this road than the vehicles. Overloaded commander jeeps with above 200% of the standard occupancy continued to be a norm on the roads.
Just before reaching Umariya a small Ghat came and while coming down the Ghat out came our first sight of a Jackal trying to cross the road. It was unmistakably a Jackal as ears were upright as they are in an Alsatian dog which is a remote possibility in case of stray dogs found around the highways. This event made us take out our torches and cameras out. I made adjustments for high ISO and moderate shutter speed on my camera this happened for good as just after driving around 20 Kms we reached plains and a pair of Jackals crossed the roads. We parked our car in the side way and looked for them around. The pair was looking out for dinner and was searching all the nooks and crevices on the field.
We left them in search of food and moved ahead. As we reached Umariya, we all breathed easy as now our destination was only 30 Kms away,  as we moved 20 Kms of this 30 KMs which was good but last 10 Kms was synonymous to torture on wheels. It was almost like a ritual in this entire road trip and we have become accustomed to it by now. We realized that we were going along with a forest patch and out torches kept looking for any glittering pair of eyes, a herd of spotted deer went bye and finally we reached the village of Bandhavgad. The arched gate at the entrance of the village confirmed for the same. The arched gate had 2 tigers standing guarding a Bharat Mata statue with lotus flowers on the extreme edge and was a clear sign of the political party in power while this arch gate would have been made.
I was in touch with Mukesh Burman, one of the prominent guides and names in Bandhavgad, I got his contact through one of my common friend. Mukesh is a person who talks with a lot of warmth and closeness and as we were about to reach I called him about our arrival and he sent a boy on bike to guide us to our resort.
Dinner was ready and we digged in to the dinner took to our bed as next morning our Safari was to get started at 6 AM for which we had to leave the resort by 5 AM.
Next morning as we steped out after getting ready the Safari Jeep was ready in the courtyard so was the hot morning tea. Good morning greeting a warm Handshake with Safari driver, exchange of names and the name of Driver was Sikander. I already had a liking for this name as at one point of time I wanted to name my kid as "Alakshendra" (Hindi version of Alexander). The driver was fully packed by an inner body suit a full sweater and a jacket on top, woolen head gear along with ear caps with a muffler.  The woolens worn by our safari driver gave us good indication of what was about to hit us in terms of weather.
The distance of entry gate to resort was nearly 5 KMs and winter was in full swing.  Temperature was around 4 degrees Celsius but on an open moving jeep felt much lower and very punishing. Staying in Pune for so long had clearly taken away my ability to fight the cold weather. As I had to operate camera and I was not comfortable doing that with Gloves, I had given up on the gloves in Kanha only.  Pockets in my Cowdray trouser and woolen jacket were my only defense offered to my fingers against this unforgiving chill. I could feel the cold even while writing this. I have even visited Jim Corbett in same weather, but Chill in Bandhavgad had ability to drill till bones and bite. We had our booking in Magdi Zone for all the 3 Safaris. Waking and getting ready early paid up rich dividends as we were the first jeep to enter the park. Magdi being a big zone separate routes are assigned to the jeeps entering and which cannot be compromised. Our route as informed by Sikander had 2 meadows and waterholes and a tigress known as Mahaman is in that area with her 2 cubs.  As usual we were expecting the luck to smile on us. The entire forest was numb to the cold and no bird calls were there. As we crossed meadows we could see the fresh pug marks of a tigress going towards the woods, we followed the pugmarks and reached a road with around 10 feet of clearing on both the sides followed by dense trees. This area Sikander told us that belong to "Patiha tigress", which also was nursing 2 young cubs around 8 months old.
As our jeep was moving slowly a sudden alarm calls of Langoor started coming from trees left of us. The calls were coming thick and fast now we remained silent expecting some action.  A Langoor alarm call still remains the best and the most reliable way to track a tiger as they only call on confirmed sighting of a predator unlike spotted deer which gets spooked even with a Jungle fowl movement.  With the presence of fresh pug marks confirmed the presence of tigress just before our arrival and constant Langoor alarm calls were signifying that it was somewhere very close. It was still dark and sun just started to peep out but darkness was still in prominence. The jeep was in middle of the road equidistant from both the ends. 2 of us were looking behind and our driver was keeping the vigil on front with 1 each on left and right side. This tigress had 2 cubs as well. The Langoor calls were still coming thick and fast, the winter chill and the drama of the jungle was at its peak. Every head was still only idling sound of petrol fired Gypsy was to be heard. All of sudden the vigil party of back side hushed "Tiger", as we Sikander engaged the reverse gear to get close to the bushes on the back side another big tiger crossed the road from the front. This beast was huge and was the mother tigress as confirmed by the Sikander.  Sikander relinquished gear changing operation and moved ahead. Just moving around 10 meters on our left side we could see a huge tigress sitting behind a tree fork, a perfect frame for taking a photograph. As soon as I picked up camera and started to focus, the tigress decided to move inside the jungle. All I could get was the side pose of tigress without the head. Nonetheless those 15 minutes were exhilarating for all of us and even I who claims to be a "not a big tiger fan" enjoyed every bit of it. The drama that unfolds in the Jungle when the tiger is around is the reason for making tiger such a super star of Indian forests. Like Kanha, Bandhavgad also held the tradition of naming a tiger by the Area in which it prowls and rules. Hence this tigress was named as "Patiah".
We waited for some more time but Sikander told us that this tigress and its cubs are very shy and elusive. We moved ahead and by now the visibility had improved and the inhabitants of grasslands started to emerge out. Foot prints of nocturnal porcupine were near the grassland tracts. A female wild boar rattled the thick bushes by the side and she was followed by the litter of piglets.
Rose ringed parakeets were sitting on parched trees nearby. The tower faced Huge grasslands in the front and my speculation of this being the same watchtower used by legendary wildlife documentary maker Mr. Alphonso Roy to record first tiger kill on camera proved out to be right as Sikander confirmed it. Post our break we moved ahead along the grasslands and one more lifer waited for me. It was the "Sirkeer Malkoha" better known as the lipstick birds that came out from the bushes to bask in to the sun. It was a picture perfect scene as the Greying Brown Malkoha with red beak sat in perfect light with green backdrop. Sirkeer Malkoha is a bird from Cuckoo family but does not follows the tradition of parasitic breeding. Dry scrub-lands is its preferred habitat. A Sikeer Malkoha sitting in open bush is an excellent opportunity as the bird seldom takes the aerial route and prefers to move along in bushes with head down and giving a mongoose like stare once it is at a safe distance. We satiated our desire for good photographs to the fullest and went ahead.  The grasslands were full of spotted deer's and young fawns. Peacocks were overseeing his Harem of Peahens as the peahens moved around.
Crested Serpent Eagle was circling the skies just above us with loud and typical Crested serpent eagle screeches, and far away and far high on the east were long White rumped Vultures. We enquired about how can we reach to that part of forest beneath the sky patch having Vultures, but Sikander informed us that it belongs to the Tala Zone.
By now Langoors had come out on the ground and were playing around. Just as we approached a water body a lesser adjutant stork flew off. I again managed to miss this unique bird. Almost every stretch of road was covered by a Jungle owlet sitting on tree trunk of a thinly foliaged tree, and the nearby perches to it were devoid of any avian activity. The Jungle owlet is an odd man out in the groups of owls, it's not at all nocturnal or crepuscular but happens to be a diurnal in its hunting behavior. It is very bold and fierce in its approach for a small bird. and it was like a clear demarcation of area between them. Lesser flamebacks woodpeckers were making drumming sounds on hollow tree trunks. In a distant tree we could spot a flock of crested tree swifts. We took our jeep near to this tree and took some shots of this bird. Just ahead a hawk cuckoo was sitting silent on a barren perch.
By now the time was getting over and we started to move back to the exit gate. Exit was smooth and at the exit gate we interacted with the tourists around and forest guard at the gate confirmed that ours was the only jeep to have sighted Tiger. Post reaching the resort we had breakfast and looked at the setup of resort closely as when we reached it was night and dark and when we left in the morning for Safari it was dark then as well. The property was huge and well set up. The breakfast was delicious with Aloo Parathas and Omlets forming the core of it. During breakfast I had a word with Mukesh in the noon and we decided to meet in the evening Safari. Everything was going smooth but yet I wanted to see the face behind this exceptionally professional arrangement with such a personal touch. There was a Rocky River bed in besides the resort and I took off to explore the flora and fauna around. Red Headed Ibis was sitting pretty on a tree top, calls of crested serpent eagle were clearly Audible, then I reached near a ficus tree which was spurting with activity of birds and I could see Small Minivet, Oriental White eyes and tailor birds were enjoying the fruits and insects of on the tree. Purple sun birds were all over the property but the show stealers were 2 cute little pups of the bitch which stayed in the property. Like all the pups they were fun to be with and I could not resist cuddling them playing with them.
Evening Safari
Till now the interaction with Mukesh Burman was only of telephonic, as we were sitting in the jeep waiting for our permit to be ratified along with Sikander a sleek gentlemen carrying a small sack bag and with brisk walk came along and boarded the jeep, we were a bit stunned to arrival of some starge person, and the alien asked Siddhartha Ji? I Said yes. He answered Mukesh, laughter broke out and the stranger although we were talking greatly with each other on phone but meeting him face to face took the connection to a different level.
Mukesh told us that he will be our guide for the remaining trips. While on the way Mukesh told us about how his and his elder brother's contributions in providing jeeps as well as tiger tracking services were involved in making of legendary documentary film "Lakshmi" in Bandhavgad. With Mukesh at the helm of affairs talks were freewheeling and mood was jovial. We entered the Magdi Zone, it was still afternoon and activity was very minimalistic taking this as an opportunity, Mukesh introduced us to the "Charger Point", this was the place where the legendary Tiger of Bandhavgad "Charger" took his last breath. Charger was the reason in chief for taking Bandhavgad to such heights in tourism circuit. Informing us about Charger, Mukesh told us that it was huge and was not at all shy. We got briefed about painful death that a tiger goes through. No action was expected as it was still late noon and Jungle folks start moving in dusk as most of them are crepuscular. Early to late evening is the best time to spot wildlife as animals change their positions, come out to drink water and to hunt as well. We took this dull time to understand Geography of Bandhavgad to which Mukesh told that Tala Zone is a perfect abode for Tigers as it has rocky dens Cliffs as well as Grass lands surrounded by woods. In same stroke he also told that Magadhi is equally rich in tigers and only thing it lacks is natural Dens. The third Zone Khitauli is famous for Leopard as well as other attractions like Sloth bears and hyena, this phenomenon has a logic behind it as leopards and sloth beers prefer to stay away from confronting the supreme predator. Indian Gaur has also been reintroduced in Bandhavgad from Kanha. Mukesh also showed us the rock mountain on which the famous Bandhavgad fort has been built. This Jungle used to be a hunting ground for the Kings and Royals and now the same ground is a booming success story in conservation of wildlife.
The early part of the evening started and with it the activity of birds also started to increase. A Lesser Golden Flamebacked Woodpecker crossed our road chased away by a racket tailed Drongo. Peacocks were out on open making loud calls. The White eyed buzzard typical of its behavior was at same place, same perch like an obedient school boy. Benefit of roaming in same Zone of forest again and again makes one more accustomed to the forest and for me the forest starts giving you indications and in a way increases your sense of anticipation of things to come.
In almost all the safaris that I have done till now, I have made my own interpretation the way the information exchange happens in tiger reserves. In my interpretation of the way in which Safari Drivers and Guides work resembles to that of an ant colony. Each ant while crossing the other communicates with each other. It's a peculiar ant behavior. Similarly  the when the Safari jeeps cross each other on the Jungle roads stop and enquire with each other about the sightings as well as possibilities. It's like a live MIS sharing that happens on Jungle roads.
Post completion of our evening Safari we were extremely happy and asked Mukesh for place for suggestions on having a small snack for evening hunger, Mukesh asked in a peculiar manner do you want good food or good place?? We said good food in unanimity. Mukesh took us to a road side stall near bus stand, the place was heaven the Gulab Jamuns with Rabdi and hot Bhajiyas with Chatni were too good to have in bits. The Gulab Jamuns were so perfectly sweetened and Rabdi was perfectly thick. The Chatni had a tremendous spike and Bhajiyas were crisp and fresh.
 DAY 2
The second Day morning Safari was our last chance to see Bandhavgad. As second half on Wednesdays remains off. As we went inside the priorities were clear, Brown fish owl, Black necked stork, as we reached the office where permits gets authorized we saw 2 forest guards on a bike holding a radio collar in hands. Till now I was highly impressed with the serious approach of the MP forest department, tourist guides as well as jeep drivers in conserving wildlife and this was the first time that I was seeing this kind of radio collar from so close quarters.
As we entered the Magdi Zone, we realized that the day was less cold and had more visibility. The first hour of the Safari went in to checking possible tiger passing corridors but no signs of the tiger movement came off in terms of alarm calls of spotted deer's or Langoor calls. Guess that the tigers were sleeping.
On the meadows we came across a crested serpent eagle sitting majestically above us with good sun light falling on it. We took many pictures of this beauty as it obliged us till the time we left. A Chestnut Shouldered Petronia was sitting relaxed on an adjacent tree without any worries of having a master predator by the side.  Indian Roller was sitting on a poll basking in the sunlight. Common hoopoe has just come out of the bushes and was prinning its feathers in order to start its day full of foraging on grassland ground floor.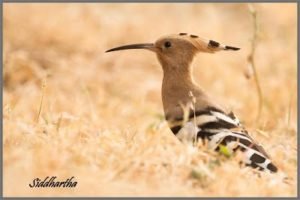 The herds of spotted deer's were all around, the fresh velvet appearing on the new horns of Male spotted deer's is a great treat to eyes. Male deer's have antlers which they shade annually and prior to the rut and start growing new pair. During this process the horns are sheathed in skin with fine hairs growing in them which looks and feels like velvet. Stags in velvet take great care to keep them from injury and are as docile as lambs. When horns reach their maximum length for that stage of the deer's development, blood supply to it is cut off at the base and the horns begin to harden and the velvet peels off. The stags are polygamous and usually collect a harem around them.
Recently migrated Red breasted flycatcher was announcing its arrival. A pair of Jungle fowl with its loud and wild call were announcing its presence in the bushes. Faraway a pair of Yellow Watled lapwing were at their anxious best and were looking out for any suspicious sound or movement to start panic calls.
Langoors were out in the open sitting on the bunds besides the road. Such sitting arrangement gives them a clear space and vision of nearby tigers which could pounce on them to make them their lunch.
Far up in the tree were a flock of Crested Tree Swifts. These swifts have always attracted me as these are kind of a rebellions in the entire swift families. Most of the Swifts use rock or human structures for sitting as well as for nesting where as these magnificent beauties use trees as nesting as well as preferred sitting sites. The males have round rusty spot on its cheek which appears like a work of a beautician with gaudy taste for shades. The females are paler and simpler as usual. The crest looks like handy work of hair gel. Just ahead on a huge mango tree waited the biggest gift that Bandhavgad could have offered us. In front of us was a Blue bearded Bee eater, the biggest of all the bee eaters and perhaps the most elusive too. This is a very shy bird and never returns to its previous perch if disturbed. Although against the sun we took photographs of this beauty without moving much and moved ahead.
We left Bandhavgad with fond memories of Patiah tigress, Majestic Crested Serpent Eagle and the richest meadows that till now I have come across.
Bandhavgad kept its promise of being the most exposed wilderness on offer in central highlands and Mukesh Burman kept his promise of being a perfect host of this wild abode.